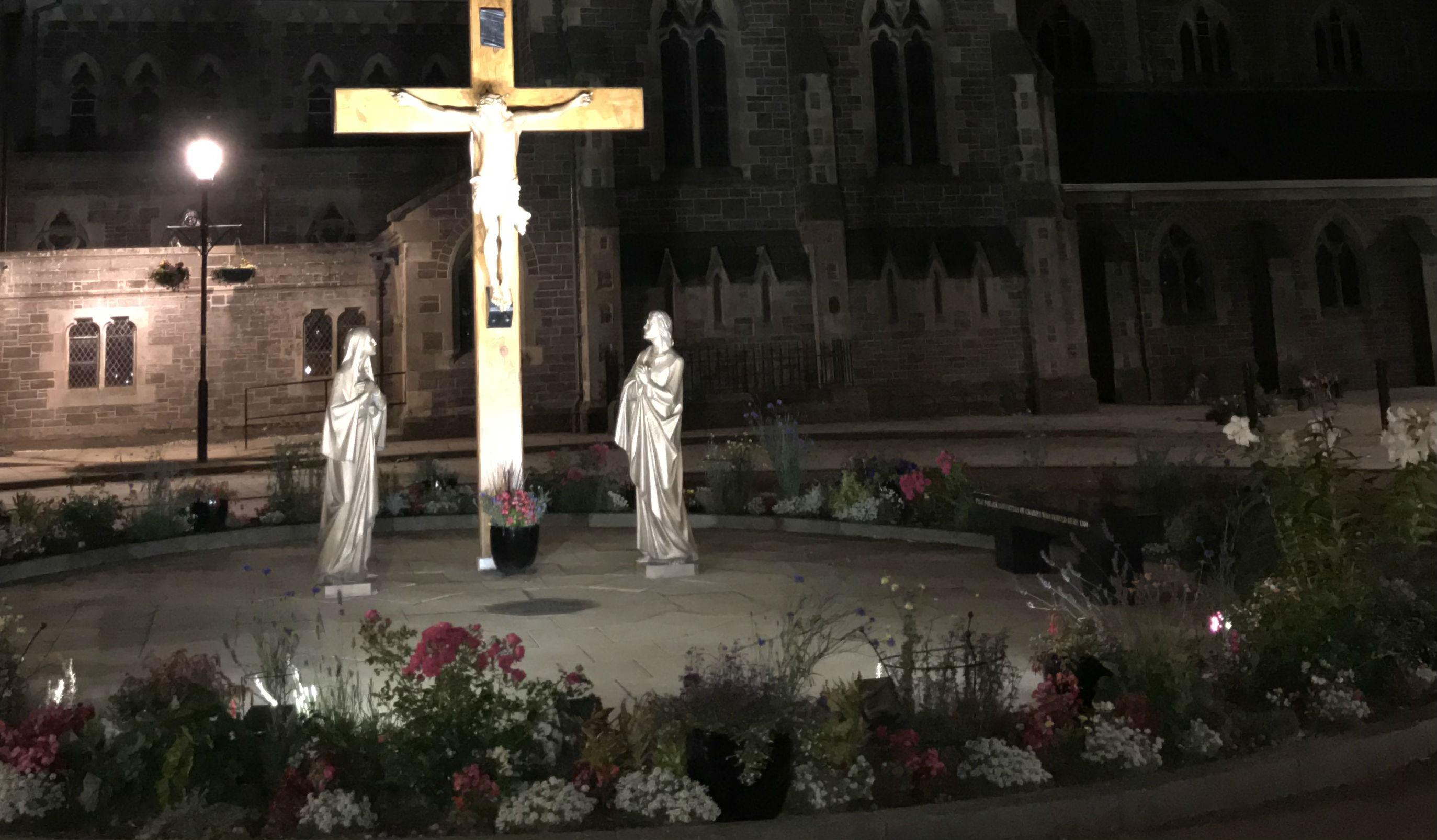 The Church Garden
I have always loved plants and growing things. Beautiful gardens and their scents are a little bit of Heaven on Earth to me. In the circular bed the first flowers to greet and cheer me each year are the white snowdrops planted by previous gardeners. Fr. Thomson approached me in 2014 and asked me to volunteer to manage14 hanging baskets and the circular bed. I agreed because I hoped to create a beautiful garden for all to enjoy.
I planted bulbs and long blooming perennials supplemented by annual summer flowers. The shallow, sandy soil in the bed has been improved by adding humus. The base of the bed is hard. Excess water flows into the drains at the circular bed entrance. The soil does not readily retain moisture and requires frequent watering. I bought pots to create a greater depth of soil and add structure.
I put fuchsias, petunias and hebes in the pots this year. In the spring the daffodils and tulips bloom followed by aubrietas and lilies. In the summer carpet roses, marguerites, lavender, diascias, rockery campanulas as well as scented lilies bloom. They create a beautiful colourful picture with a variety of textures and heights. There is some winter colour from euonymus and hebes in pots. The snowdrops and crocuses add interest and colour to the late winter year.
The garden costs are financed by a Church collection each May. We make a financial contribution from this money to Lanark in Bloom to plant and manage our hanging baskets. Lanark in Bloom won a Gold Award for the first time in 2018 in the 'Beautiful Scotland' Competition. The judges stated in their comments that 'The jewels in the crown with Lanark in Bloom are the impressive garden at St Mary's Church, which is ably maintained by a small keen group, and the ongoing developments and restoration at Castlebank Park ...'
Our small group would welcome anybody who can help us with the garden if you can spare an occasional hour.
If you can help email: This email address is being protected from spambots. You need JavaScript enabled to view it.
Telephone 01555 662234 and leave your contact details with a message.
No previous experience required.